During the year we talk to a lot of brides and grooms about their wedding plans and this gives us an idea of what works and what does not, what is current and what is not. We're pleased to share some of these ideas with you.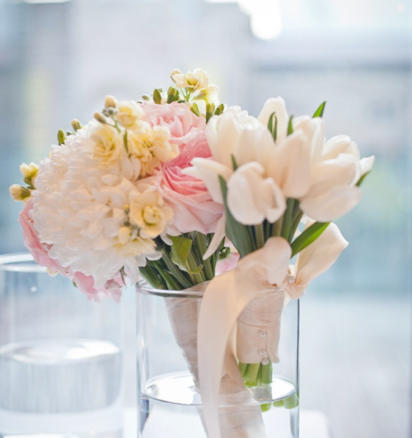 Current Trends in Unique Flower Choices
As much as we adore peonies and roses, we know that using non-traditional wedding flowers such as carnations and mums are always a pleasant surprise for brides. Not only are they long lasting and will remain beautifully fresh for your wedding, but they are always available in a variety of beautiful colours to match the look you have in mind for your special day.
Try commercial mums to give your arrangements volume and and other chrysanthemums as supporting flowers. Rather than hydrangeas that don't last well out of water, consider a bunch of carnations clustered together for a similar visual effect, but much more hardy.
This wedding that we worked on features white commercial mums, white tulips, pink roses, and yellow freesia.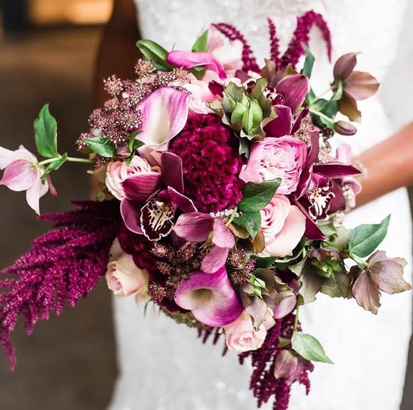 Deep Reds and Jewel-tones for that Lush Look.
Burgundy and reds match beautifully with a variety of greens and shades of pink. For a lush look, we love pairing deep, jewel-toned blooms with unique greens.
Using a variety of different flowers will also give arrangements more texture and visual interest. 2017 saw many weddings with muted, soft blushes and coral tones, but we're expecting to see bolder colours in 2018!
Our designer created this sophisticated and elegant bouquet for Ciera on her special day. It features anemones, calla lilies, roses, cymbidium orchids, and celosia.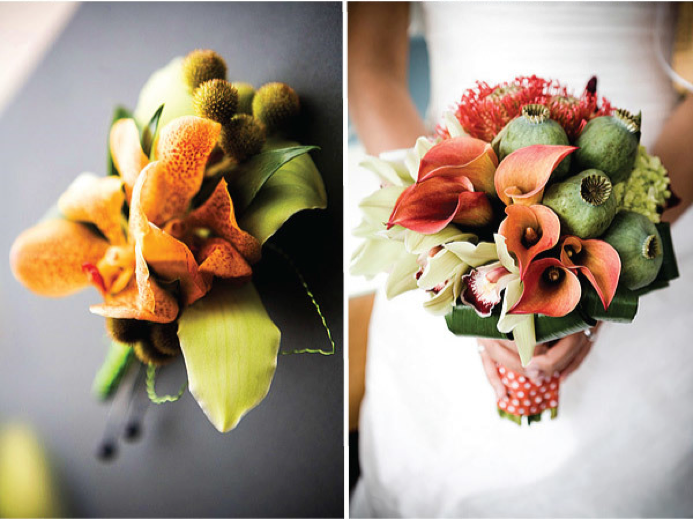 Tropicals to add a Touch of Exotic Sophistication
Boutonniere (left) and bridal bouquet (right) from Andrea and Jesse's wedding that our designers created using mainly tropical blooms, including mokara and cymbidium orchids, calla lilies, pincushion protea, and poppy pods. http://www.stylemepretty.com/v...
Consider tropical flowers for a colourful, exotic, and sophisticated theme. Orchids, proteas, ginger, anthurium, birds of paradise, and tropical foliage are all great choices to make your wedding flowers memorable and unique.
In general, tropical blooms are hardy and make a great choice for wedding bouquets. As they are grown in tropical climates, they are better suited to warm temperatures. Tropical flowers come in a wide variety of shapes, sizes, and colours and are available throughout the year.
We recommend tropicals for summer weddings, especially if you will be holding your ceremony and events outdoors.
Fancy Foliage for that Elegant Look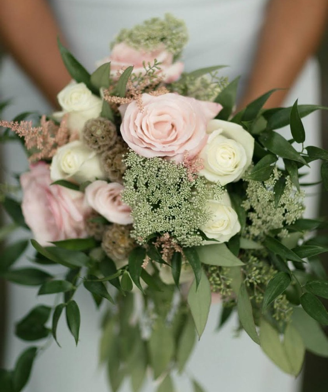 For a simple yet elegant look, there are a variety of greens available for your wedding day. An assortment of leafy greens can be highlighted with a few statement flowers to create a naturally beautiful cascading bouquet.
Some of our favourites include seeded eucalyptus, silver dollar eucalyptus, and Italian ruscus. If you are going for simple florals, opt for Queen Anne's lace or baby's breath to give your greenery bouquet a soft touch.
For this bride who wanted a soft and natural touch, we created a bouquet of roses, Queen Anne's lace, Italian ruscus, astillbe and seeded eucalyptus.